Mission Statement:
To supply our readers with accurate, timely publication of the news. Thoroughly vetted and disclosed with the utmost transparency to ensure its authenticity, that our readers may draw comfort in our commitment to upholding journalistic integrity.
To pursue the influence of money over politics and media, and to follow the trail wherever it may lead, no matter the consequences. For this corruption, if unchecked, would surely be the downfall of Democracy, thus, it must be brought to light.
To remain objective and unbiased in our reporting, so as not to dilute our true purpose with agenda or preference. No journalist may remain wholly honest and partisan simultaneously.
To refuse any monetary gain, honoraria or gratuities offered by any source, organization, corporation, government entity or person in exchange for influence or coverage. Democracy Prevails Over Darkness when good men stand against tyranny and corruption.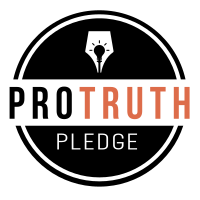 We signed the Pro-Truth Pledge:
please hold us accountable.